filter media
Terrarium and Paludarium Waterfall Kits
The Bio Dude's all-in-one collection of terrarium waterfall kits to create your own one of kind, fully aquatic base terrarium or paludarium. These reptile waterfall kits include components required to create your at home waterfalls or small water features.

Many water features can function with a pump below the drainage layer, pumping the water from the drainage layer to your desired output location to re-flow back to the base of the bioactive habitat. It is recommended to do frequent water changes and have your pump be accessible to you at all times for maintenance.
Waterfalls can be created by using flat rocks, various flat wood such as cork bark flats or tubes or by creating your own out of silicone and expanding foam.
Terrarium Waterfall Kits & Supplies
Aquatop Breza Air Pump 20 Gallon
$8.95
The BREZA AP-20 Aquarium Air Pump delivers a powerful punch with low energy consumption and super quiet operation. Aquarium air pumps allow your aquatic creatures to acquire the oxygen they need in order to thrive. An air pump system adds air bubbles, creates current and agitates the water to help in filtration. This is where the quiet hum noise...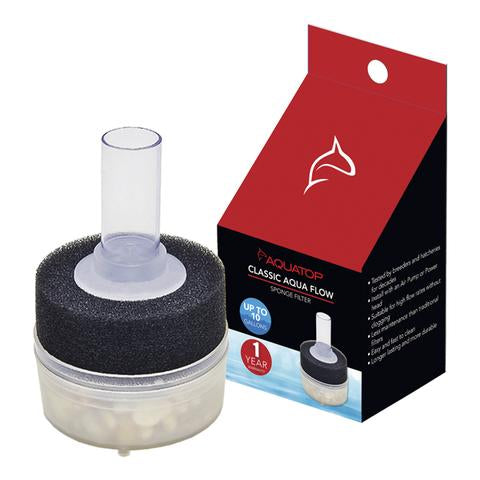 Aquatop Internal Sponge Filter 10 Gallon
$3.95
The CAF-10 is a simple, classic and economical sponge filter for beginner and advanced aquarists alike. The specially developed foam materials of each CAF sponge filter supports the colonization of bacteria, allowing for mechanical and biological filtration. The process breaks down harmful ammonia and nitrite material resulting in a cleaner livi...