Calcium Plus
Reptile Calcium & More
Reptile supplements are a must when it comes to keeping reptiles and amphibians as pets. Just like us, they utilize calcium, vitamin A, and many other vitamins and minerals for basic homeostasis. Discover reptile vitamins, calcium and more with The Bio Dude.
Reptile Vitamins & Supplements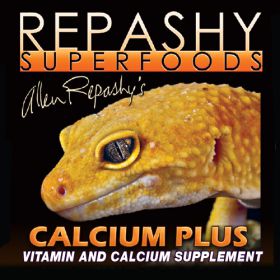 Repashy Calcium Plus
$18.95
Calcium Plus VITAMIN AND CALCIUM SUPPLEMENT NET WEIGHT 3 OZ Repashy's "All-in-One" Insect Dusting Powder provides essential vitamins, minerals and trace elements. Featuring both Retinol and Carotenoids as sources of Vitamin A. INFORMATION: Calcium Plus was developed to increase the nutritional value of insects as they are fed to all insectivor...